"If your business is not on the Internet, then your business will be out of business."

Bill Gates
Microwave ovens took almost 25 years to be widely adopted for home use since small wavelength magnetrons were first used in World War II radars. Their widespread adoption brought plenty of convenience to the Western world. The internet was born out of similar concerns of national security. However, while microwaves brought about the ready-made meal and frozen food revolution, the internet's utterly transformative effect paved the way for the information age.
In the past 20 years, society evolved to be so ubiquitously interconnected that you're expected to be reachable over the internet 24/7, whether personally or as a business. The fundamental effect of carrying a smartphone with you at all times also cannot be underestimated. The internet has been incorporated in our lives. Social relations and business have changed irreversibly, and as more people become increasingly tech-savvy, the trend accelerates.
Mr. Gates' quote may sound cliché, but it simply describes the silent revolution capturing the entire world, even more so than its industrial predecessor. Previously, people's solutions were informed by print advertising, word of mouth, and big brands that didn't need an introduction. But why would you buy magazines or bother someone else when you can just ask Google? Therefore, it's safe to say that if you're not there for Google to point towards you, it's not a matter of "if" but "when" your business will cease to exist.
Against this increasingly dynamic backdrop, journalists, writers and business gurus alike told everyone "there's never been a better time to start an online business." Sure, the world has changed, but that doesn't mean you have to be left behind. But what does online business really mean? When people throw out these buzzwords, they refer to something between the following extremes:
On one end of the spectrum, there's your traditional, brick and mortar business looking to use the internet for marketing and sales purposes. The point of "going online" for such businesses is to replicate the customer-facing physical presence on the internet. Getting a website and a social media page on your audience's favourite platform are ways to achieve this.
On the other end of the spectrum, you have companies whose model is entirely based on the internet. E-commerce giants like Alibaba or Amazon, Google's search engine product or even clevver.design are closer to this end of the spectrum. Simply put, without the internet, these businesses' services and products would not make sense.
Enter 2020. We all know the story. Pandemic, nationwide lockdowns, and a rapidly altered business landscape. With entire industries forced to move their operations online, suddenly the shift of business to the web is at the center of attention. And while traditionally "going online" rather meant the former end of the spectrum, the pandemic challenged business owners to rethink their models and processes altogether, incorporating the digital in essence and form alike.
And while the COVID-19 pandemic did not trigger such a movement, it dramatically accelerated the trend of digitization. Current business owners as well as prospective entrepreneurs have been forced to recognize the advantages of having an online presence, making their clients' lives easier and streamlining internal operations.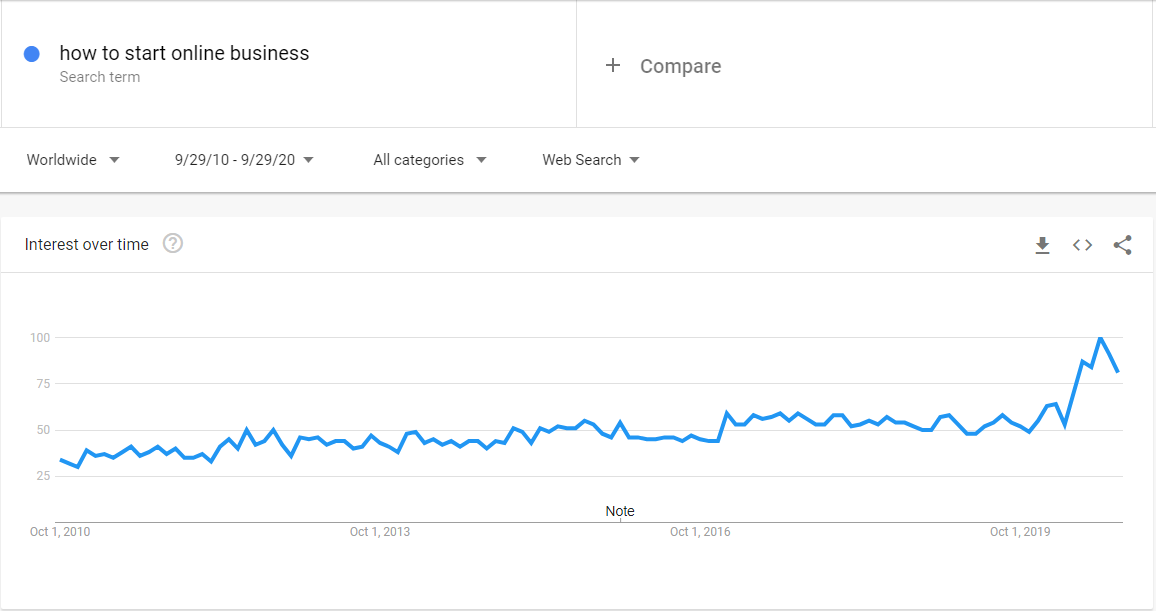 But before discussing these benefits, there are a few specific factors we'd like to highlight to support the assertion that now, indeed, is the opportune time to start an online business.
More People Online, More Hours Spent Online 🔗
There was already more online activity than ever in the pre-pandemic days of early 2020. But as COVID-19 sent the world home, the world went to the internet like never before. Social media use soared, Netflix binges grew longer, e-commerce conversion rates skyrocketed.
Even as countries around the globe have lifted stay-at-home restrictions, restarted economies, and ease back towards business as usual, business as usual is not going to look as it did before March of 2020.
Just because countries reopen and, hopefully soon, a treatment or vaccine for the virus is developed, does not mean businesses will simply drop everything and go back to strictly brick and mortar setups.
While customers are already returning to town centers and shopping malls to make purchases, they will by no means drop their online buying habits that have only been strengthened by the pandemic.
Trends like work-from-home, online grocery shopping, and greater use of online entertainment will not simply vanish, while more people spending more time online means the consumption of internet content will only continue growing.
With the sharp increase in the number of people online and the number of hours spent online, there has never been a better moment to invest in online discoverability.
New Customer Problems Lead to New Business Opportunities 🔗
It's no secret that some of the most successful companies on the planet emerged from times of upheaval and economic difficulty. HP and IBM did it decades ago, while in the wake of the most recent global economic downturn, the world saw the birth of several globally recognized brands like Uber, Airbnb, and Slack.
"Uncertainty" is one of the foremost buzzwords when it comes to the pandemic induced upheaval around the world. But amid this uncertainty, one absolute certainty is the appearance of new problems that people need help solving.
Such is the standard during times of economic and societal turmoil. With people seeking cheaper transportation options and alternative income streams during the Great Recession, Uber was created. With many people priced out of travel and others looking for extra sources of cash, Airbnb was developed.
What the crisis has created and will likely continue creating are countless human problems and new consumer dilemmas, from serious macro-issues to menial, everyday annoyances.
With new problems and dilemmas comes the opportunity to create helpful solutions.
The emergence of new problems and the opportunity to create new solutions have led many big players on the market to adapt faster than ever or forced them to take a step back and reassess their situation.
Thus, it's an excellent moment for anyone who was ever inclined to start a business or have ideas about pivoting their existing business to consider a few questions:
What new problems or consumer dilemmas are people experiencing?
How might these problems or dilemmas be solved?
What kind of value can you provide for others?
5 Major Benefits of an Online Business 🔗
With so many businesses moving at least portions of their operations online, it's important to understand why taking your business online is so rewarding in the short and long term. Here are the five biggest benefits of starting an online business or creating a digital presence for your existing business.
Reach and Engage More Customers 🔗
More people than ever are spending more time than ever online. Thus, it's fairly straight forward: if you want to reach more customers, the web is the place to be.
Whether or not your business requires a brick and mortar location, an online presence offers several advantages when it comes to attracting more customers. First and foremost, the internet - aside from a few exceptions - challenges traditional geographical boundaries. Start your business online, and you immediately have the advantage of being able to reach a global audience of billions of possible customers.
Second, aside from simply being accessible to more potential customers, being online provides the resources necessary to bring far more traffic to your business than being strictly offline.
Search engine optimization, content marketing, social media, local directories, and other methods of digital marketing allow you to expand the visibility of your business at an unlimited scale - demonstrating your value and drawing possible customers to your site.
Third, by using the right tools, an online business knows no closing time. Your doors are open 24 hours a day, 365 days a year, increasing your ability to reach more customers and for more customers to find you.
In the digital age, being online makes it much easier for curious visitors or customers to communicate with your brand. Being open all day every day, people can reach your business via social media, your website's contact form, or maybe even a chatbot at any given time.
This, in turn, offers ample opportunity to provide timely assistance, create a dialogue, and build relationships with individuals reaching out to your business through various online platforms.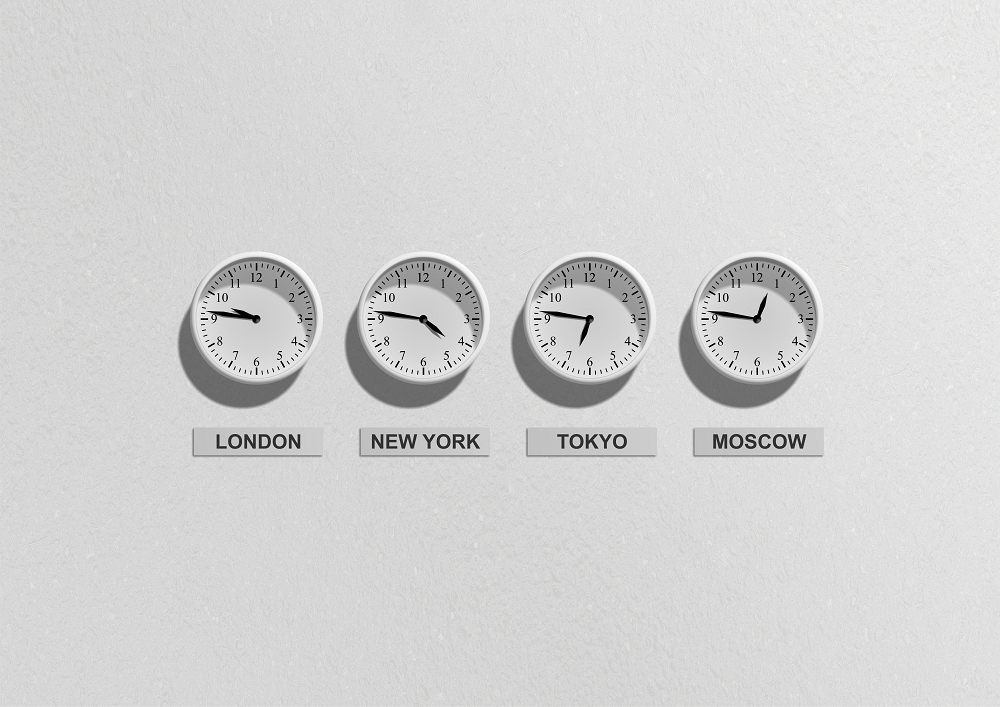 Regarding customer engagement, being online also enables you to learn more about your customers and how to better cater to their needs.
Various analytical tools allow you to measure how your customers are interacting with your business, providing insight into what they enjoy or avoid on your website, what types of content they find valuable, and crucial feedback about your products or services.
By using analytics made available from being online, you can efficiently optimize your operations to better solve customer problems, meet their needs, and improve your business. Data-driven organizations are 23 times more likely to acquire customers, six times as likely to retain customers, and 19 times as likely to be profitable as a result. – McKinsey Global Institute
Increased Credibility 🔗
At the moment, it's safe to say that if a business does not have a half-decent web presence, that business is going to be viewed with skepticism.
With more and more businesses shifting to the web, being online isn't just a functional advantage, but also a sign of credibility. Even for small local businesses, a good web presence signifies that a business is reliable and in tune with the times. 64% of small businesses had a website in 2018 and over half of the remaining 36% were planning to build one in 2019.
Presenting your brand through a quality website, active social media platforms, or an informative blog are simple ways to instantly boost the credibility of your business, giving you a significant edge over your more conservative competitors who do not capitalize on this opportunity.
Placing your business online offers the ability to display positive testimonials or star-studded customer reviews on your website. 76% of consumers trust online reviews as much as personal recommendations, which means having a digital presence is a great opportunity to build trust with visitors before they even become customers.
Changing demographics also play an important role. Millennials have rapidly been replacing generation X as workers and entrepreneurs. Generation Z, or zoomers, are entering the market as consumers. What they have in common is that their first impulse is to look for solutions online, completely ignoring (and sometimes wrongfully so) brick-and-mortar businesses by default.
Moreover, according to Deloitte, 75% of millennials have been saying remote work policies are necessary since all the way back in 2016, showing they are also more comfortable working for businesses that digitize for more than their clients' delight. Simply put, capital is moving towards people who live and breathe online. For them, the closer you are to the first result on Google, the more trustworthy you will appear.
Cost Efficiency 🔗
These benefits aren't ranked in order of attractiveness, but if they were this is likely number one by a long shot. It's not going to be free, and it might take time and effort, but building a digital presence is wildly affordable.
In regards to marketing and advertising, search engine optimization, social media, and even pay-per-click ads can be utilized for next to nothing compared to most traditional forms of offline marketing.
Consider Google ads against classic print ads that appear in magazines and newspapers. Yes, magazine and newspaper ads are targeted based on the readers of a given publication, but they still require money upfront to occupy fixed physical positions on pieces of paper.
Google ads, meanwhile, can reach anyone in the world, are highly targeted based on people's interests in the moment, and do not cost anything until someone is interested enough to click on one. In other words, you only pay when they do their job. Ad placement and audience targeting are the top ways that advertisers drive more demand.
As for personnel, leveraging the automation of inventory management, content management, checkout, and payment will result in lower demand for manpower and lower operating costs than a traditional, offline business setup.
Convenience and Flexibility 🔗
The convenience of an online presence manifests in numerous ways depending on your industry and type of business. For businesses providing digital products or services and operating entirely online, there is massive convenience in being able to deliver said products or services to anyone, anywhere in the world, at any time.
Even for a business with products or a service that requires customers to arrive in-person at a physical location, an online presence makes it easier for the business to be found in the first place. 60% of smartphone users have contacted a business directly using the search results such as the "click to call" option. Considering these numbers are on the rise, it's extremely beneficial to have your business listed in online directories and appear in Google search results.
But beyond making life easier for business owners, having an online presence tends to make life easier for people interacting with the business. An online shop, for example, is a convenient alternative for customers to be able to buy what they need from the comfort of their couch, instead of needing to drive or walk somewhere to make the same purchase. Even if they still want to make the purchase in person, 46% of shoppers confirm inventory online before going to a store.
Such convenience often enhances the customer experience, therefore increasing the likelihood of people becoming repeat customers, or even ambassadors of your brand through positive reviews and recommendations to others.
Concerning the idea of flexibility, one of the defining factors of an online business is the fact that employees can, in many cases, work from anywhere. Depending on the industry and type of business, online businesses can be successful without having an office space everyone is required to meet. Employees can work remotely, have a flexible schedule, and meetings can be held over video calls.
Even for businesses that require a physical location for their products, moving portions of the business online can increase employee flexibility, which has become increasingly important over the past few years for businesses trying to attract top talent.
Increased Potential for Growth 🔗
Bringing together the ability to reach more customers, the cost efficiency, heightened credibility, and the convenience, a final, major advantage to taking your business online is that it increases the growth potential.
The abundance of marketing opportunities created by being online increases the chances of bringing in more customers, while the ability to optimize based on online analytics can help take business performance and efficiency to another level.
Whether you're starting a business completely online or establishing a web presence to accompany your brick and mortar location, an online presence fosters the ability for quicker and greater scalability.
Conclusion 🔗
Imagine an employee who could enable you to engage customers and business partners on their terms, 24/7. Forget language barriers, time zone differences, and physical and geographical limitations. They would also help you acquire otherwise inaccessible information about your clients and their buyer journey. Their simple presence would make your business look professional, trustworthy and credible. Customers would feel like working with you is more convenient since this super-employee came about. And instead of making your previous employees anxious over underperforming, they would actually be relieved to have the flexibility the new staff addition brings them. Moreover, this wonder-worker could actually support you in scaling up your business.
But such an employee would offer you so much value that you couldn't possibly ever compensate them adequately, right? Wrong. This employee is your digital presence, which is an incredibly cost-efficient investment.
Given the glowing benefits built into taking your business online, it's fair to ask, "what are the downsides?" After all, there must be more to it than simply building a web presence and watching your business grow. Surely, there are difficulties that are inevitable when taking a business online.
Such thoughts are entirely correct. For all the benefits, there are also plenty of challenges to overcome when starting an online business or digitizing your existing business. Figuring out how to construct your web presence requires a solid understanding of your business purpose and the different channels you can use to reach your customers. Sorting between digital marketing strategies can be daunting when you're just starting out. And if you want to set up your business for success, you need to consistently dedicate time and effort to applying analytics and optimizing your processes.
For those of you seriously interested in building a successful online presence, we at clevver.design are here to offer you our expertise. We can help you navigate the pitfalls in the process of taking your business to the web to achieve excellent results and take advantage of all the benefits mentioned in this article.